Pot-Roasted Rhubarb and Raspberries with Vanilla Bean & Lemon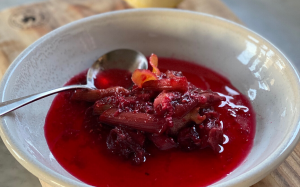 As a rhubarb fan I can tell you that there's nothing quite like the tangy taste and radiant rose-red colour that these divine stalks bring to a dish.
Serve with gelato and a vanilla snap biscuit.for dessert, or you can layer with your granola for a gorgeous breakfast.
Ingredients
Serves 6
10 stalks rhubarb
300g sugar
1/2 lemon, zest removed with a vegetable peeler
1 vanilla bean sliced very finely
1 cinnamon stick
1 cup raspberries
Method
Trim the rhubarb, cut into thick slices on the diagonal and place in the base of a large ovenproof dish.
Combine the sugar, lemon vest, vanilla bean, cinnamon stick and sprinkle over the rhubarb.
Set aside for at least 20 minutes. Preheat the oven to 180 degrees.
Bake for 25-30 minutes or until cooked.
Add the raspberries in the last 10 minutes of cooking.
Allow to cool before serving.