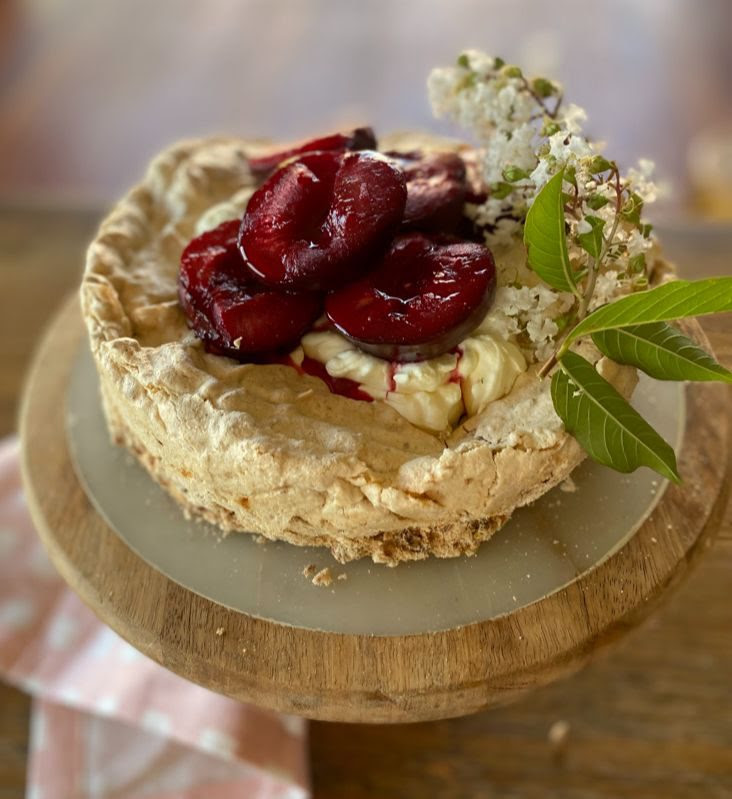 Savouring the last of the summer fruit in one of our favourite times of year!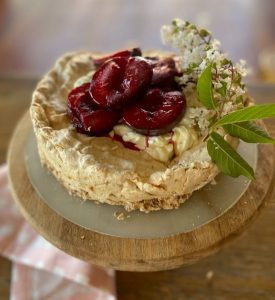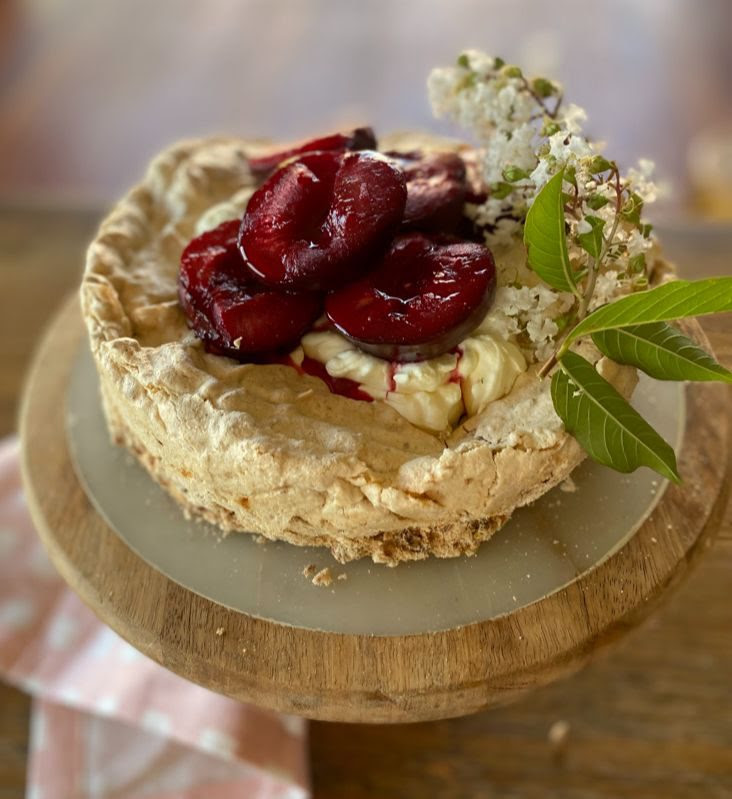 Pistachio Meringue Cake Ingredients
240g x pistachios lightly roasted and finely chopped until they resemble coarse breadcrumbs (I use a food processor)

6 x egg whites

300g caster sugar

Zest of 1 lemon
Method
Preheat oven to 160 degrees, grease and line a 24cm cake tin.

Start by beating the egg whites until soft peaks form.

Gradually add sugar to egg whites while beating until stiff peaks form and all sugar is mixed in. Set aside.

Add ½ the pistachios to the meringue and combine, then tip in the rest of the pistachios and lemon zest.

Pour into prepared tin and place into the oven.

After 40 minutes check if the top is browning too much and if so, cover with foil.

Cook for another 20 minutes. Cake will be firm to the touch when cooked.
Roasted Plums Ingredients
6 x plums

50g caster sugar

Juice ½ lemon
Method
Increase oven to 180°C.

Place plum halves, cut-side up, on prepared tray and sprinkle with lemon juice and caster sugar. Roast plum on top shelf of oven for 12-15 minutes or until slightly tender. Set aside to cool slightly.
Mascarpone Cream Ingredients
125g mascarpone

150g cream

1 tbsp icing sugar
Method
Whisk mascarpone, cream and icing sugar to soft peaks. Remove cake from the pan and spread mascarpone cream over the top. Add plums and drizzle with plum cooking juices to serve.
To Download Recipe Card please click here >> Pistachio Meringue Cake