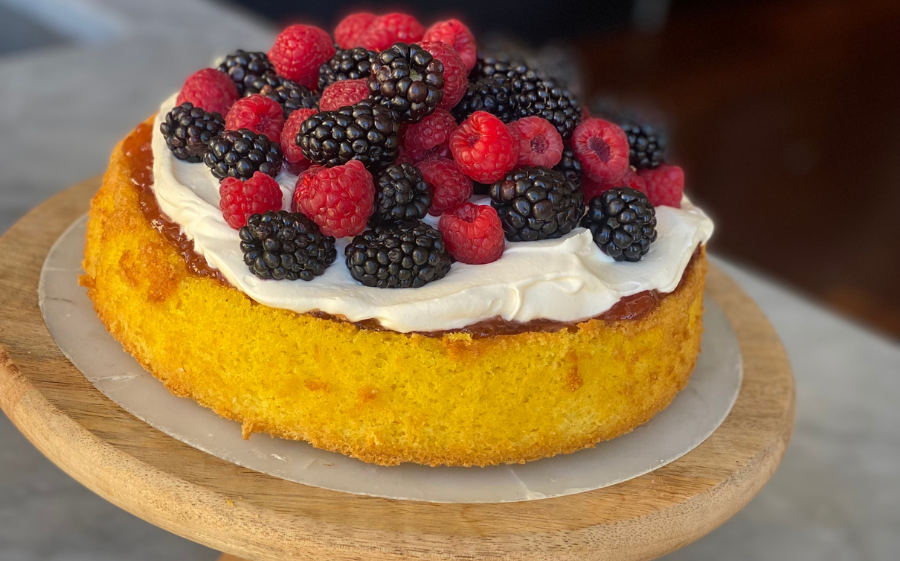 Ingredients
5 large eggs

¾ cup sugar

1 cup plain flour
Topping
3/4 x jar (4 tbsp) Long Track Strawberry & Apple Jam

300ml Whipped cream (google this if you are not sure how)

2 x punnets raspberries or

1 x punnet strawberries

2 x punnets blackberries or

1 x punnet strawberries
Instructions
Preheat oven to 180 degrees C.

Beat 5 eggs with sugar for approx. 5 minutes in a cake stand mixer or with electric beaters (until it's 3 x times in volume).

Using a spatula fold in the flour in thirds. Be gentle with the batter so that you don't over mix it and lose the fluffiness. Flour must be fully mixed in.

Pour the cake batter into a 23cm spring form tin, lined on the bottom with baking paper, and oiled on the sides.

Bake the sponge for 30 minutes in the oven and check it using a toothpick or skewer. If the cake is cooked, the batter should not stick to the skewer.

Once cooked, cool the sponge cake in the tin, this may take an hour or so.

Once cool, transfer to a suitable serving plate

Spread the top of the sponge with a thick layer of strawberry jam.

Top the jam with as much cream as you like.

Decorate with delicious berries and serve.
NOTE: If the oven is opened and shut during cooking the sponge may sink so try not to check until the 30 minutes have passed.If this happens the sponge will still taste good and you will have more room to fill the top with jam, cream and berries.
Download Recipe Here >> Long Track Strawberry Jam Sponge Cake