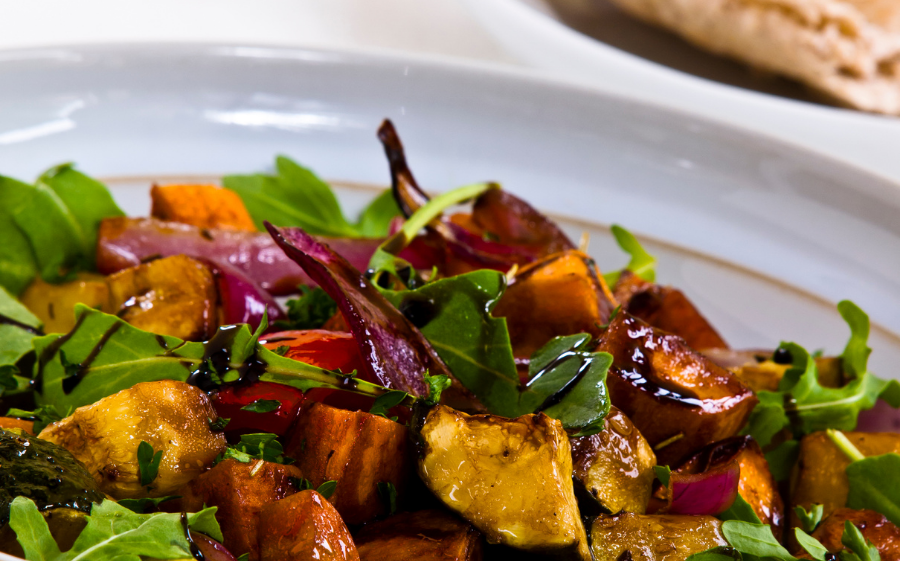 Oven Roast Vegetable Salad with Caramelised Balsamic Vinegar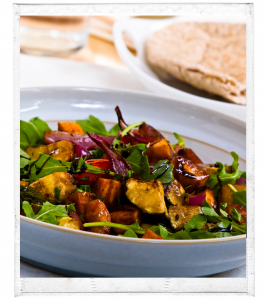 Ingredients
3 -4 red capsicum

4 small beetroot or 2 eggplant

salt

a pinch or two of dried sweet basil

olive oil

1/2 butternut pumpkin

6 -8 roma tomatoes, halved lengthwise

10 small picking onions, peeled and left whole

2 heads garlic, separated into cloves and peeled

15-20 snow peas

1-2 tablespoons caramelised balsamic vinegar

4-5 tablespoons olive oil

freshly ground black pepper

rock salt
Method
Preheat the oven to 200°C. Halve the capsicum, remove and discard the seeds. Place in a baking tray, cut side down, and roast until the skins are blistered. Remove from the oven, cover with a tea-towel to steam a little so that skins can be easily peeled off. Cut into chunky pieces and set aside.

Turn the oven down to 180°C. Place the whole beetroot on an oiled oven tray and roast for 1 hour or until tender. Peel when cooked.

If using eggplant, slice and place on a lightly oiled oven tray. Sprinkle with salt and basil. Drizzle a little oil over the top and roast in the oven until browned and softened, about 40 minutes. (The smell when this comes from the oven is wonderful.)

Peel and cut the pumpkin into small chunks and place in another baking dish with the tomatoes, onions and garlic. Drizzle a little oil over the top and roast for about 40minutes so that the vegetables are slightly browned and soft but not too collapsed.

Meanwhile, quickly steam the snow peas so that they are cooked but still crisp.

To serve, pile all the vegetables in a large serving bowl, drizzle with vinegar and oil, and grind some black pepper and rock salt over the top. Serve Warm.
Download Recipe Here >> Oven Roast Vegetable Salad with Caramelised Balsamic Vinegar