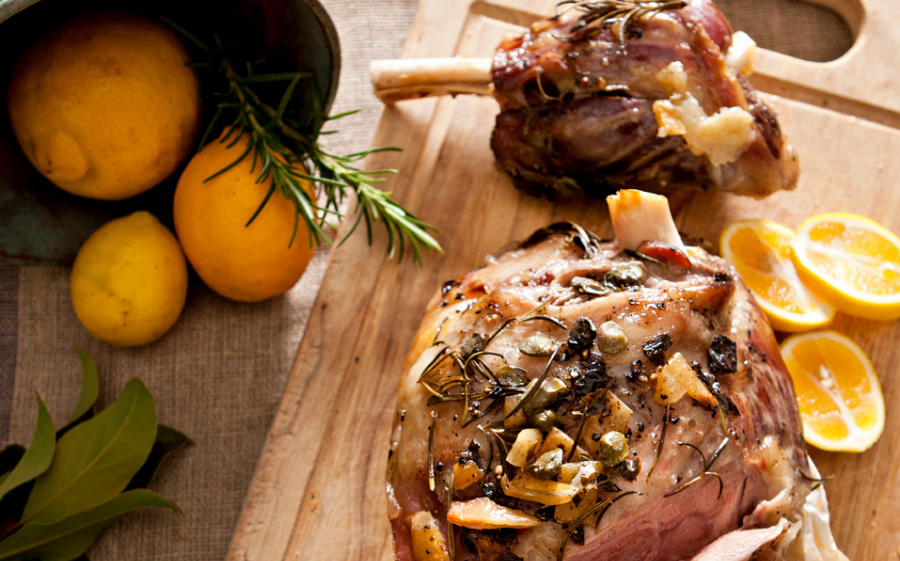 Recipe from Farm Cafe Cookbook by Catherine Bragg & Juliet Robb
We love this served with a crispy green salad and homemade potato chips for a delicious spring lunch!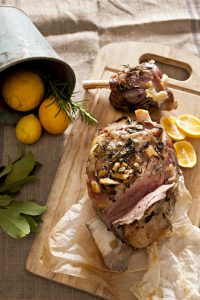 Ingredients
1 leg lamb

3 tablespoons parsley, chopped

1 teaspoon chives, chopped

1 teaspoon rind of preserved lemon, finely chopped

1 tablespoon capers

2 tablespoons black olives, pitted & finely chopped

2 teaspoons sesame seeds

2 tablespoons olive oil

3 tablespoons cream
Preheat oven to 220 C. Oil the base of a heavy roasting pan with a little olive oil.

Rub outside of lamb with oil and rub a little salt over the top. With a sharp knife score through the skin 4 or 5 times across the top of the lamb.

In a bowl, mix together the herbs, lemon rind, capers and olives. With your hands spread the mixture on the lamb to coat it well, sprinkle sesame seeds over the top and drizzle with olive oil.

Roast in the oven for 10 minutes then reduce heat to 180 C and cook for a further 1 hour 15 mins, remove from oven and rest for 10 minutes before carving.

Pour off the fat from the roasting pan and deglaze the pan with a little cream to make an excellent gravy with pan juices.
Download Recipe Here >> Olive and Sesame Crusted Lamb