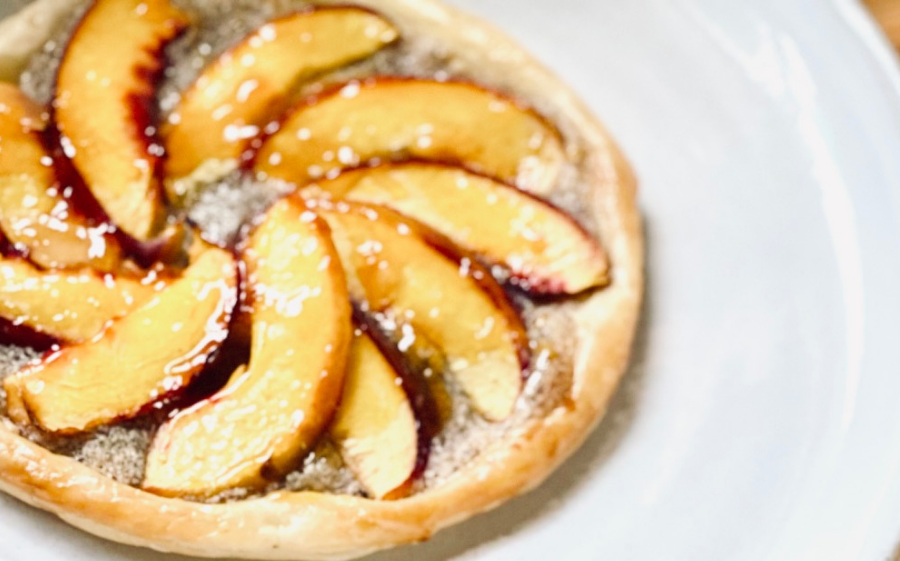 Nectarine & Hazelnut Frangipane Tarts

Makes 6
Beautiful summer tart celebrating the last of the summer stone fruits.
Ingredients
· 100g softened butter
· 100g sugar
· 100g hazelnut meal (or you can substitute almond meal)
· 1 egg plus 1 yolk
· 2 -3 ready rolled sheets puff pastry (depending on what shape tart you decide to make)
· 6 ripe nectarines cut into thick slices
· Apricot & Almond Jam to glaze (you can also use a sweet marmalade here)
To make the frangipane cream, place butter, sugar and hazelnut meal in a food processor and blend well. Add one egg and process until well mixed. Set aside.
Preheat the oven to 220c. Cut each pastry sheet (just use 2 sheets) into 3 lengths for rectangle tarts or cut 2 circles in each sheet (use 3 sheets) if you would like round tarts. Place tarts on line baking trays. Brush the edges of each tart (approx. 1-2cm) with egg yolk to glaze.
Place spoonfuls of the frangipane cream on to the centre of the pastry and spread to the inside edge of the egg glaze, approx. 5mm thick. Arrange nectarine slices on top.
Bake in the oven 10 mins, then reduce heat to 180c and bake for further 15mins or until golden brown and puffed around the edges.
Remove tarts from the oven and cool. Place 2 tbsp apricot jam in a saucepan and heat very gently until warm. Glaze the tarts with warm jam if desired.
Download Recipe here >> Nectarine & Hazelnut Frangipane Tarts