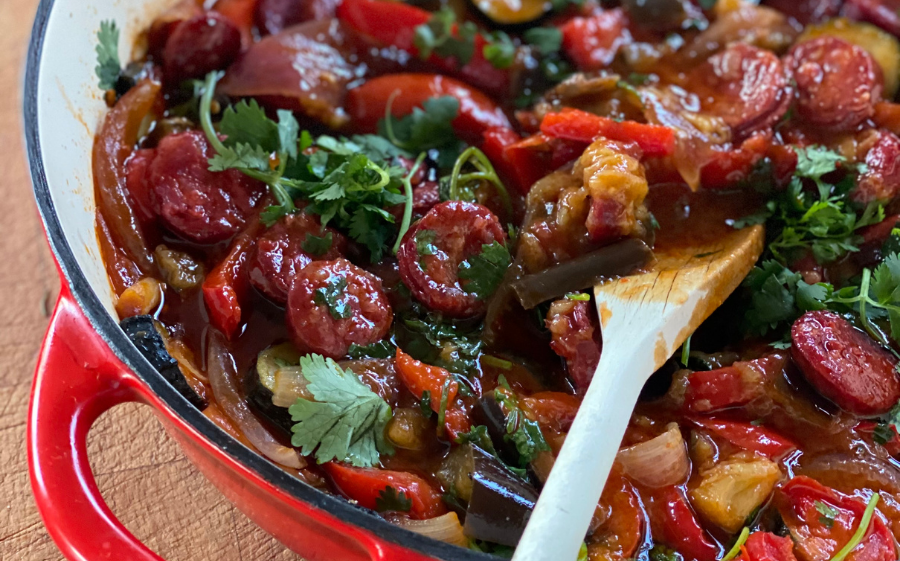 What better way to enjoy the bounty of late summer/early autumn vegetables than with a delicious mediterranean ratatouille…the addition of chorizo takes it to the next level! Hope you love it. xx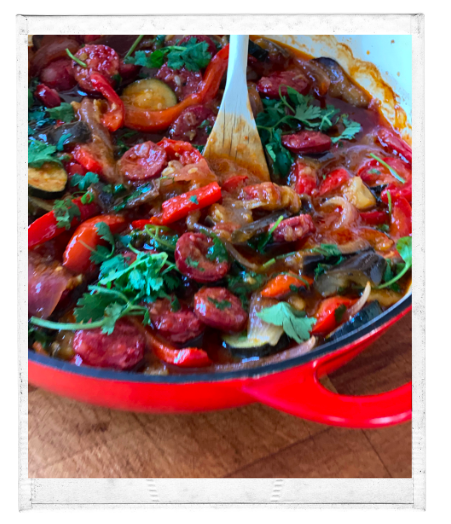 Ingredients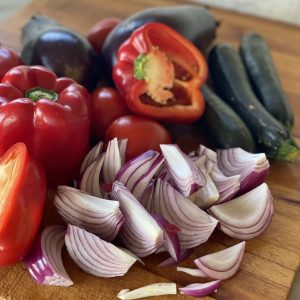 Olive oil
1 x large red onion
4 x cloves garlic
1 x red chilli thinly sliced (optional)
2 x red peppers thinly sliced into strips
2 x zucchini sliced
1 x eggplant cut into 2cm chunks
1 x 400g tin diced tomatoes
½ tbsp sugar
1 tbsp tomato paste
1 cup water
2 x chorizo sausages (optional)
Method
Cook onion gently in heavy ovenproof casserole pot with 1 tbsp olive oil for approx. 5 minutes. Add garlic, chilli and red pepper and cook for 5-10 minutes until soft. Remove the pepper and onion mix from the pot and set aside. Place zucchini, eggplant, tomato, sugar, tomato and water into the pot and cook until soft (approx. 10 mins). Add the onion and pepper mix back to the pot.
Cook gently for 30 mins, covered, on the stove top. Then, place in oven (180 degrees) uncovered, for 30 minutes.
If using chorizo, while the pot is simmering in the oven, slice the sausages and cook the pieces gently to release the juices without burning the sausage. Once cooked, set aside.
When the ratatouille is finished in the oven, set aside for 10 minutes and then stir through chorizo and juices.
Enjoy with a green salad and crusty bread.
Download Recipe Here >> Late Summer Ratatouille with Chorizo