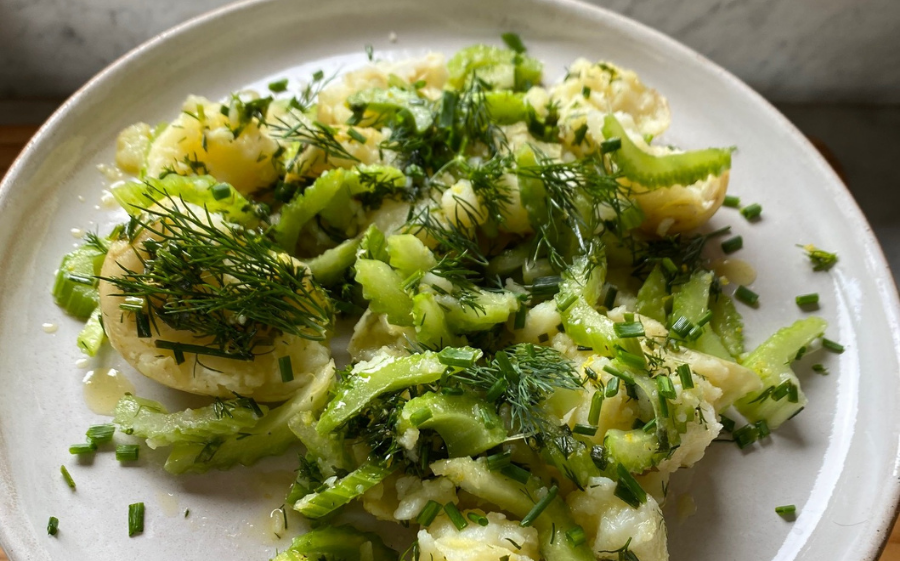 This dish is going to be summer favourite for casual dining and entertaining this season in our household – recipe is based on one by our new favourite author, Alison Roman. It is one of those great recipes that can be enjoyed warm or as a salad, and so can be prepared ahead of time!
Ingredients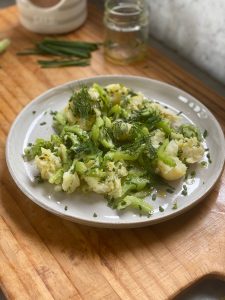 750g small roasting potatoes

(approx. size of a golfball)

Salt

100ml olive oil

3 tbsp chopped dill plus extra to garnish

1 tbsp lemon zest

3 tbsp lemon juice

1 bunch chives finely chopped

Pepper

5 celery stalks thinly sliced on the diagonal

1 handful tender parsley leaves

2 tbsp baby capers
Method
1. Boil the potatoes in salted water until tender. (10-15 mins). If you let them go too long they will become very mushy (but will still be super delicious so don't worry). Drain and set aside until they're cool enough to crush with the palms of your hand.
2. Combine Olive oil, dill, zest, lemon juice and capers in a bowl and season with salt and pepper.
3. Add the crushed potatoes and celery and toss to coat. Season again with salt and pepper to taste.
4. Transfer the mix to a large serving platter. Top with parsley leaves, chives and extra dill.
Preparing ahead: Potatoes can be boiled up to a week ahead and potato salad can be made up to two days ahead, covered and refrigerated. Bring salad to room temperature to serve.
Download Recipe Here >> Crushed Baby Potatoes with Celery, Dill & Capers