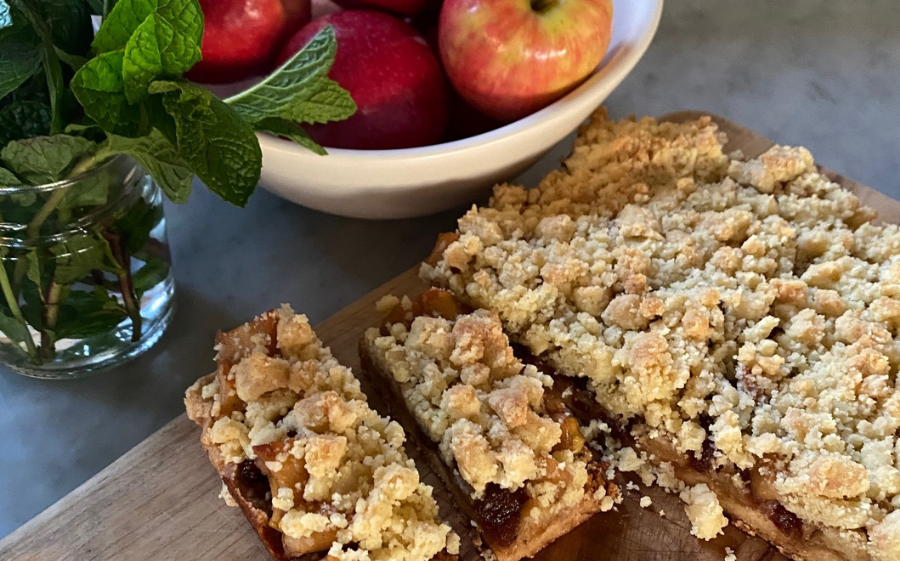 Our absolute favourite treat that is being served at Cafe 31, our new fresh food & coffee bar! So now if you aren't able to join us in Coolac, you can treat yourself with our Apple Crumble Bars – so crumbly… so delicious.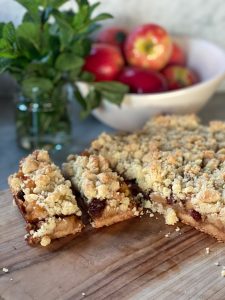 Ingredients
Base
2 cups plain flour
3/4 cup caster sugar
180g melted butter
Apple Filling
25g butter chopped
600g apples, peeled and chopped
1/2 cup brown sugar
1/2 tsp cinnamon
1/3 cup sultanas
icing sugar for dusting
Method
1. Preheat oven to 180 degrees. Place the flour, sugar and butter in a large bowl and mix well to combine.  Press half the crumble mixture into the base of a into the base of an 18cm x 18cm square tin lined with baking paper.  Refrigerate for 10 minutes until firm. Remove from the fridge and cook for 20-25 minutes or until a light golden brown.  Set aside.
2. To make the apple filling, place the butter, apples, sugar, cinnamon and sultanas in a saucepan over moderately high heat.  Cover and cook for 7 minutes.  Remove the lid and cook for another 5 minutes until the apples are soft and liquid has been absorbed.
3. Spoon the filling over the base in an even layer.  Sprinkle the remaining crumble over the apples and cook in th oven for 35-40 minutes or until golden brown.  Allow to cool in the tin, dust with icing sugar and cut into slices to serve.