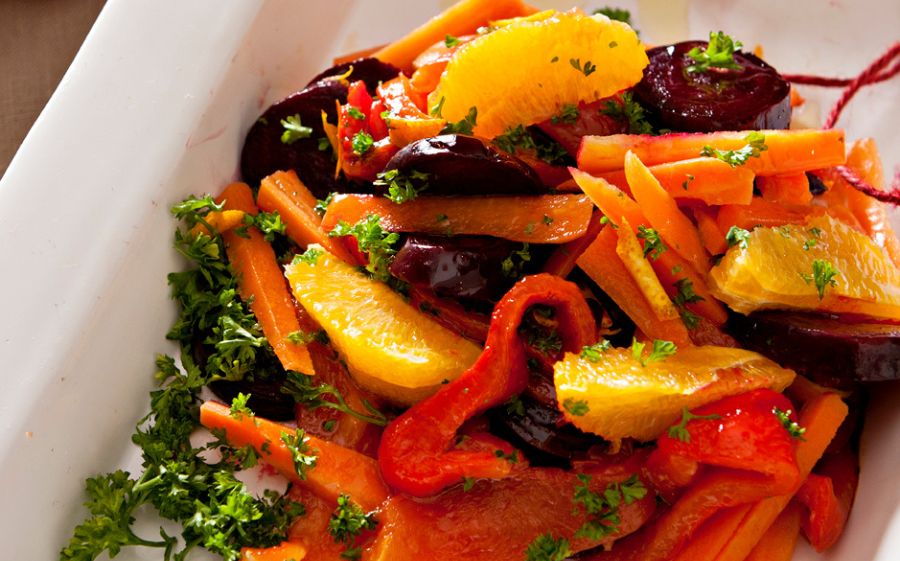 Recipe from Farm Cafe Cookbook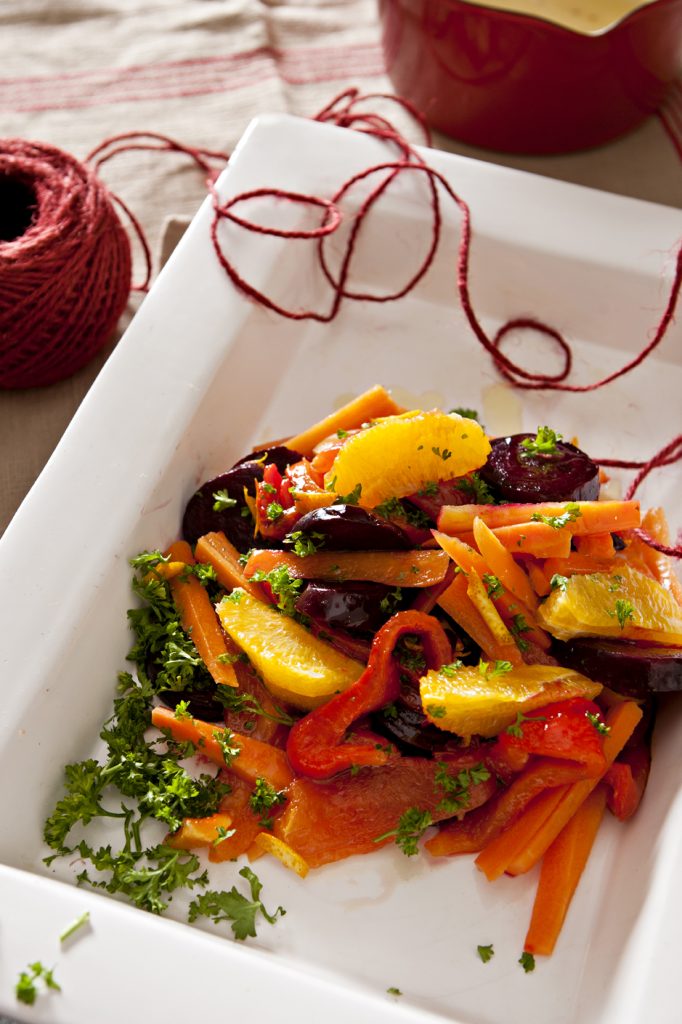 Ingredients
4 small beetroot

2 red capsicum

2 carrots

1 large orange

1 teaspoon grainy mustard

salt and pepper

4 tablespoons olive oil

2 teaspoon balsamic vinegar

2 tablespoons finely chopped parsley
Method
Preheat oven to 180 C.

Wash beetroot, wrap individually in foil, place in a baking dish and bake in medium oven for about 1 hour or until tender. Peel the cooked beetroot and cut into slices.

Cut the capsicum in half lengthways and remove seeds. Place cut side down, on an oiled tray and cook in oven with beetroot for approximately 30mins until softened and the skin will peel off. Remove from the oven, peel and cut into strips.

Peel and slice the carrots lengthways into fine strips and blanch in boiling water 3 minutes.

Grate the rind from about half the orange, then cut the orange in half. Remove the flesh of one half of the orange, cut into segments and retain for the salad. Juice the other half orange to use in the dressing.

For the dressing, combine orange juice, mustard, olive oil and balsamic vinegar in a jar and shake well.

Place beetroot in serving bowl, top with capsicum slices, carrots and orange segments, sprinkle with grated orange rind, season with salt and pepper, and pour dressing over the top whilst beetroot is still warm.

Sprinkle a little chopped parsley over the top for a stunning colour combination.
Download Recipe Here >> Beetroot Salad with Roasted Capsicum & Carrot and Mustard Orange Dressing