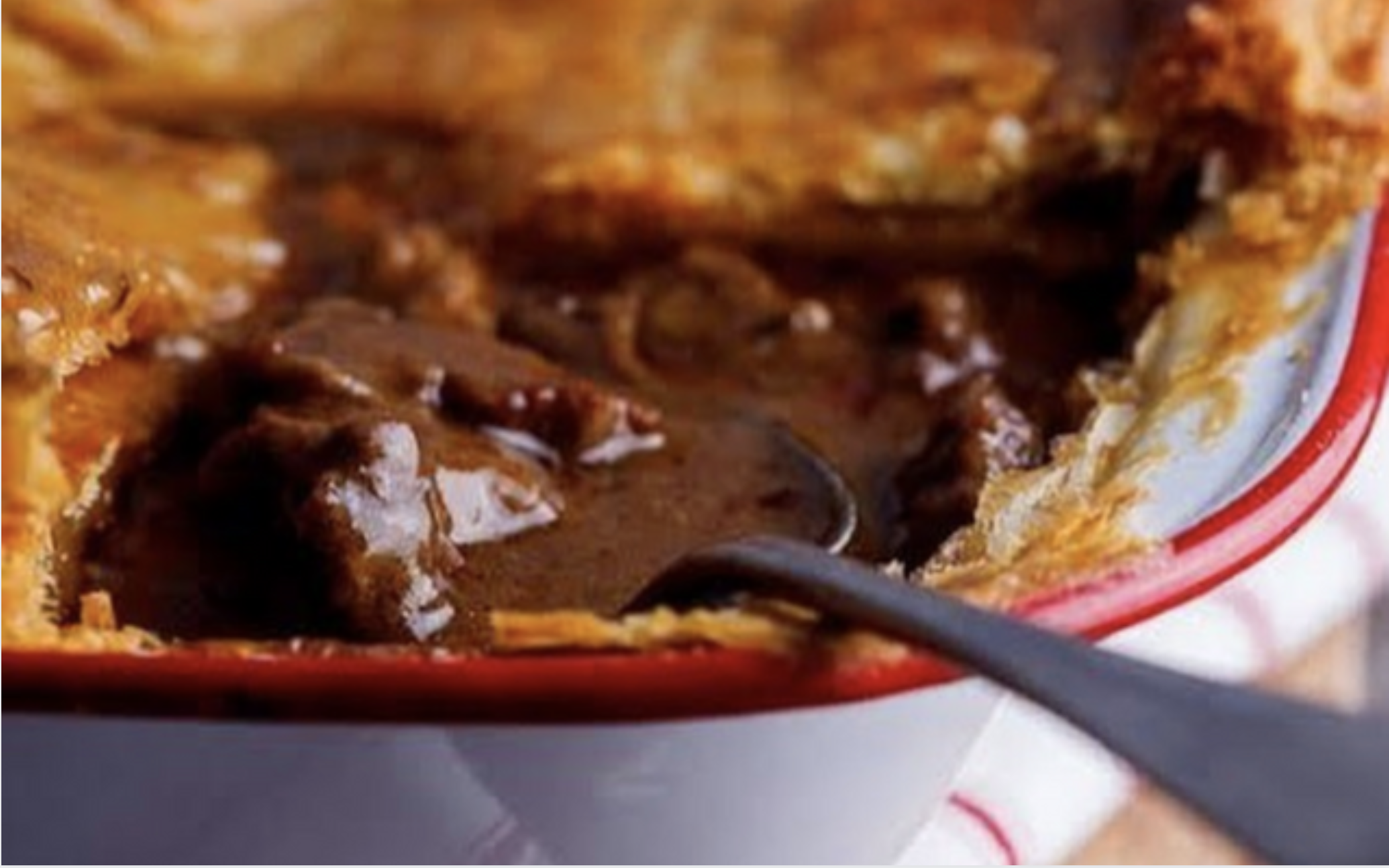 Beef, Bacon & Red Wine Pot Pies (serves 5-6)
1 kg stewing steak, diced
2 onions sliced
2 whole rashers of bacon
2 cloves garlic
1 cup red wine
2 cups beef stock
pepper
2 sprigs fresh thyme
1 tbsp softened butter
2 tbsp plain flour
2 sheets puff pastry
1 egg beaten
Cook the onions in 3 tbsp olive oil until they are lightly caramelised.  Dice the bacon, finely chop the garlic and add to the onions.  Fry gently for around 5 minutes.  Add the diced beef, stock, wine and thyme and pepper and simmer gently uncovered for 1 1/2 hrs stirring occasionally.  Add a little more stock if the liquid reduces too much.
Preheat the oven to 200 degrees.  When the beef is tender (you will need to try it), taste and season as necessary.  In a small bowl with your fingers, mix together the butter and flour until they come together in a ball.  Divide the butter/flour ball into two or three pieces and drop into the simmering beef.  Stir a couple of minutes until the sauce thickens and butter ball melts.
At this stage you can make one large pie by pouring the mixture into an ovenproof dish (28cm x 16cm approx) OR you can make individual pot pies by spooning the mixture into ramekins.  Te filling should nearly come to the top of whatever dish you are using.  Cover with puff pastry, cutting on or two slits in the pastry to allow steam to escape.  Brush the pastry with beaten egg and cook in the preheated oven for approx 20 minutes or until pastry is puffed and golden.